The born of Sumidouro is still hidden in the darkness of history. The lack of documents and trustworthy sources opens a large field to numberless hypothesis and speculations. But if we want to simplify the mather, in a caricatural way, we can say that Sumidouro is born with the gold smuggling and has grown with the coffee culture. In the 18th century the miners which wanted to smuggle gold and precious stones, used the paths along the Paquequer's valley. Hamlets sat up along this "road" became the beginning of settlements. The shutdown of mining activities in the "minas gerais" compels the smugglers to become farmers. By 1822, archives mention the construction of a chapel owed to Conception Lady, by the right side of Paquequer's river, and close to a "throath" where its waters disapeared.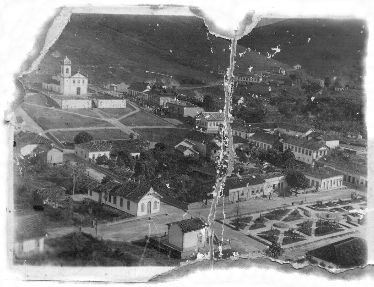 The village is upleveled to "Curato" and atached to the municipality of Cantagalo till 1843. This year , the village is hanged to " Freguesia" of Our Conception Lady of Paquequer and atached to the commune of Nova Friburgo. From then til 1881, Sumidouro knews the "gold age" of coffee economy, with the spreading of lots of coffee farms running with slave workers.
The railway arrives to Sumidouro eigth years after the annexation of the "freguesia" to the commune of Carmo, in october 1989. One year before the slavery was avoid in Brazil, and one year latter the republic will be proclamed.
The 10th june 1890, Dr. Francisco Portella, former governor of Rio de Janeiro's State, decrees the creation of the municipality of Sumidouro, still linked to Carmo's authority.
This resume is too resumed, but if you want to have futher informations read the interesting essay " Sumidouro ", by Luiz Henrique da Silva, writen in 1990.